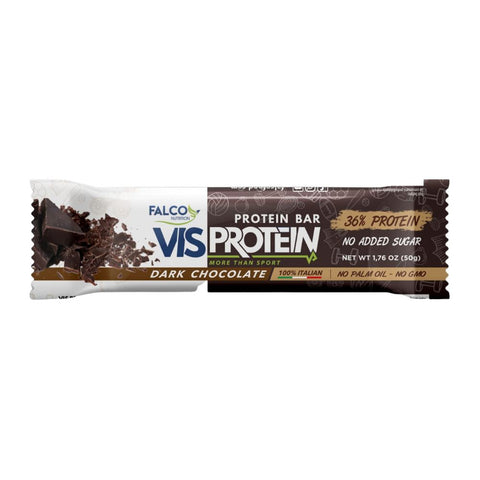 Falco
Vis Protein Dark Chocolate 50g
Vis Protein is the new 100% Italian high protein bar
The new 50 g Falco VIS PROTEIN line of protein bars for sport are ideal for those looking for a healthy, tasty, completely natural and 100% Italian snack . The high content of whey proteins (36%) are perfect for your workouts with a perfect balance of nutritional values .
Uniqueness : consistency and organoleptic characteristics make the bars unique. Crunchiness and meltability make them excellent in taste and highly digestible.
Protein value: 50 gram balanced protein bar. The high percentage of whey protein alone (36%) allows a high protein intake and a balanced intake of other nutrients, ideal for your workouts and post-workout recovery.
Attention to raw materials : our attention in the search for the best raw materials gives the "Vis Protein" bars an unmistakable and completely natural taste.
WITHOUT: We do not use palm oil, preservatives, artificial flavors, hydrogenated fats and added sugars in the production.
Practicality: The practical bar can be consumed at any time of the day thanks to its high digestibility, keeping your psychophysical well-being in balance
INGREDIENTS:
dark chocolate (cocoa mass, sugar, cocoa butter, emulsifier: soy lecithin, natural vanilla flavouring) (55%); whey protein; soy crispies (soy protein isolate, corn starch, rice flour); cocoa rice crispies (corn flour, sucrose, rice flour, wheat flour, low-fat cocoa powder, cocoa powder, salt, vanilla flavouring); peanut oil; dark cream (sugar, vegetable oils (sunflower), low-fat cocoa powder, chocolate (sugar, cocoa mass, low-fat cocoa powder), emulsifier: sunflower lecithin, natural vanilla flavouring).
ALLERGEN INFORMATION:
the ingredients highlighted in bold are included in the list of ingredients referred to in Att. II of EU Reg. 1169/2011 which can cause allergies or intolerances in some people. The product contains gluten and may contain traces of nuts.