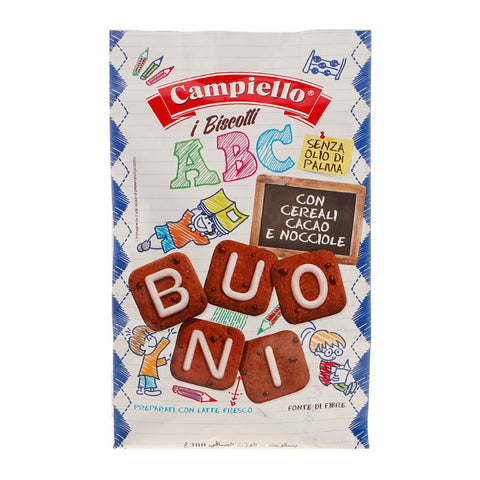 Campiello
ABC Cocoa & Hazelnut Biscuit 300g - Campiello
A-B-C biscuits with cereals, cocoa and hazelnuts
Wake up, children! Now is the time for A-B-C shortbread with crunchy cereals, chocolate, lean cocoa and hazelnuts, made in Italy. Before the school bell rings… you need a breakfast that is healthy and nutritious, genuine and delicious, rich in fibre and fresh milk. Everyone off to school, the day could not start in a better way!
INGREDIENTS
Wheat flour, sugar, 10% sunflower oil, chocolate (sugar, cocoa paste, cocoa butter, dextrose, emulsifier: soya lecithin), 6.5 % crunchy cereals (rice flour, wheat flour, sugar, barley malt extract, salt) 3.8% powdered lean cocoa, butter, 3% fresh pasteurised milk, 1.6% hazelnuts, wheat starch, glucose syrup, leavening agents: ammonium hydrogen carbonate, sodium hydrogen carbonate; salt, egg white, flavouring. It may contain traces of other nuts.