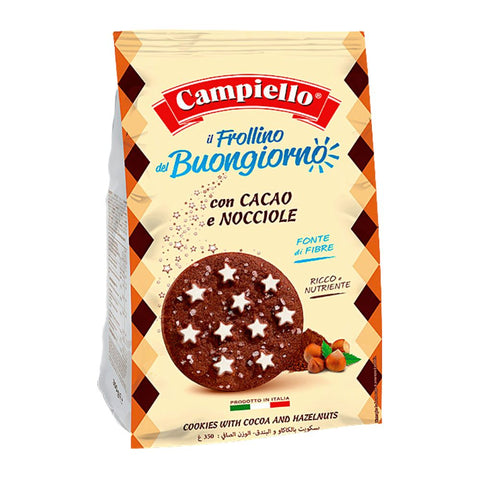 Campiello
Cocoa & Hazelnut Biscuit 350g - Campiello
Il Frollino del Buongiorno with Cocoa and Hazelnuts
There's no more delicious breakfast than one with Il Frollino del Buongiorno with cocoa and hazelnuts, produced in Italy, dunked in milk or tea! Aromatic and crumbly shortcrust pastry, whole milk and tasty lean cocoa for a 100% delicious and energetic start to the day!
INGREDIENTS
Wheat flour, sugar, sunflower, 5% powdered lean cocoa, butter, glucose syrup, 0.06% hazelnuts, wheat starch, powdered whole milk, leavening agents: ammonium hydrogen carbonate, sodium hydrogen carbonate; salt, powdered egg white, flavouring. It may contain traces of soya, nuts.